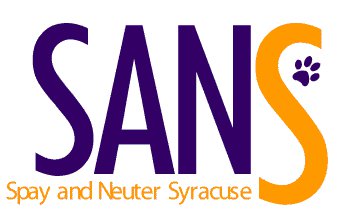 We are collecting donations to support Spay and Neuter Syracuse.
Make a donation and we'll thank you with one FREE playtime session or one FREE box of cookies for your pet. To receive free gift, you need to bring in at least 2 items ($5.00 value) from the approved SANS Wishlist below. For more information visit their website at https://www.spayandneutersyracuse.com/donations


Newspaper
Forever USPS Stamps
Plastic, Sealable Sandwich Bags
Tissues & Toilet Paper
Canned Cat Food
Pellet Cat Litter
Ground Coffee
Garbage Bags
Q-tips (cardboard, not plastic)
Gallon Distilled Water
Bleach
Laundry Detergent
Hand Soap
Cat Carriers
Printer Paper
Towels & Blankets
Gift Certificates: Home Depot, Staples, Walmart, Wegmans, etc.